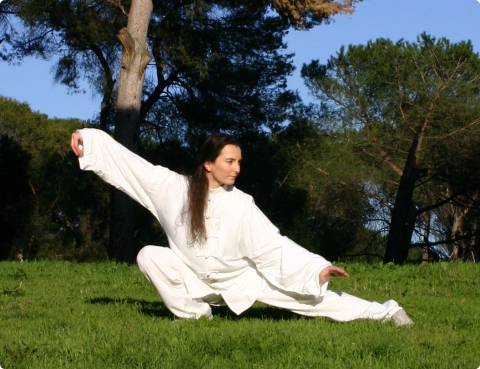 太  Tai Chi  極
Known as Tai Chi Chuan or Taiji or Taijiquan. Meaning "great pole" or "Supreme Ultimate"
There are five major styles of Taiji; Chen, Yang, Wu, Sun, Wu/Hao. It is generally accepted that the Yang style is the most commonly practiced and popular. Yang is the style being taught here at the Martial Arts Academy in Tauranga. We are teaching the "Simplified Yang Style" also called the "24 step or posture Yang simplified routine". As the name suggests it comprises of 24 postures in a set choreograph. The movement linking these postures is performed in a slow, smooth and graceful manner developing good levels of concentration and coordination.
The intensity of physical demand is totally in the control of the participant and you can increase or decrease the intensity of the workout to suit your personal requirement. For this reason it is very well suited to all sectors of our society, from the super fit competitive athlete to the more senior members of our community. The activity helps with balance, coordination and flexibility. As you develop your taiji more emphasis is placed on breathing and coordinating breathing with movement.
In a number of countries Tai Chi has been promoted as a great way to help balance and stability problems with the elderly.
CLASSES:    WEDNESDAY's    1:00pm  till  2:00pm
Requirements to attend class:
Most important you need to be there, come and try it, love it and stay. It can become part of your way of life.
Loose fitting clothes.
 
Your Instructor:Training is provided by Elizabeth Smith who has more than 40 years of martial arts experience including being a qualified coach.
Origins of Tai Chi
For those of us that practice Tai Chi it has a special place in our life. Tai Chi was created in China and most people agree that the origins begin with the legendary Zhang San Feng from the famous Wudang Daoist Monastery (Song Dynasty). It is said that Zhang San Feng originated the concepts of neijia (內家); soft, internal martial arts. Following on from him the founder of the first form of Taiji (Chen style taiji) is attributed to Chen Wang Ting (c.1600-1680). However it is most likely that some form of taiji was being practiced in an elementary form before then.