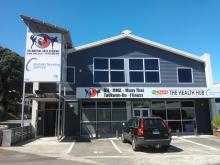 Here at The Martial Arts Academy Tauranga we have focused on providing our members with a world class, clean, safe, family friendly training environment.
We provide 24 hour access, functional fitness equipment including squat rack, bench press, dipping station, pull up bars, free weights, battle ropes, rowers, air dyne bike and a lot more, we also provide a boxing ring, wall mats, eva foam floor matting, full length kick bags, conditioning bags, pads galore, suspension trainers, gloves and shin pads for new students, showers and changing facilities, and a store for all your martial...

Welcome to The Martial Arts Academy Papamoa.
For years people have been asking us to take classes in Papamoa and finally the time is right and now we are.
One free week registration