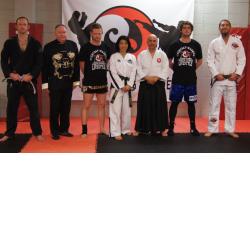 Is your instructor holding you back?
Welcome to 2017.   A new year means new goals.  At work, with family or in our martial arts.  Another grade? New skills, a new martial art?
I'm energised after a relaxing break at home, going to the beach, the gym and training for myself rather than training others.  
As a full time martial arts instructor, it is important that we keep our inspirations alive, our physical skills sharp, and not just repeat the same old class year after year.
I have been doing some training with my co-instructors and TMAA students.  I am hearing that some other instructors restrict their students from training at other venues or with other instructors, even from the same art.
To me, forbidding a student to train elsewhere is a sign of insecurity and demonstrates a control freak mentality. It is a display of ego over understanding their own weaknesses, preferring to think that they have everything to offer, and puts selfishness ahead of their student's development.  
If you are a student where your instructor frowns upon you training anywhere else, you need to ask yourself, and them, the question why?
In our ITF Taekwon-Do community in New Zealand, our Masters encourage students to visit other clubs. This has always been an open door policy of our ITF and embraced by our 70+ instructors.  I always find a learn something whenever I visit another ITF club.  Next week I will be attending a martial arts science camp with 5 times World TKD Champion Carl Van Roon and my assistant instructors will be attending as well.  Over Christmas we had wonderful visits by Master James Rimmer, and I'm sure my students and I just enjoyed the opportunity to train together.
To be the best, we must be open and willing to learn from the best.
Don't let your 2017 training slip into the same hamster wheel cycle.
May the force be with you to break free.
Happy New Year.
Christine Young
Director, Instructor, Co- Founder The Martial Arts Academy
P.S. We welcome new or returning members at the Martial Arts Academy.