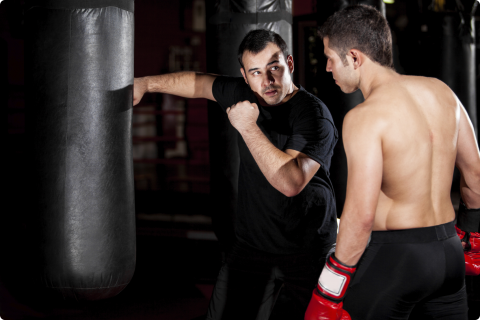 Train like a fighter without the fight...Its up to you how far you take your boxing, you can train like a fighter with out getting in the ring or you can take it to the next level. People come to boxing for all sorts of reasons, if you have the desire to get fit have fun and get to know new people then boxing offers it all. We have different levels of training so you won't be left behind. Come and see for your self what we're all about and get your first class free.
Benefits
Increased Speed

Increase upper & lower body strength

Better balance, footwork & eye to hand co-ordination

Substantial increase in cardiovascular endurance & stamina

Relief from stress

Unique total body workout

Disciplined quietly confident

Meet new motivating people to help you reach you personal goals

Increase confidence, self-esteem, eye & hand co-ordination & balance
Equipment
We recommend you have:
Boxing Hand Wraps

Head gears

Appropriate Training Shoes

Skip Rope

Gloves

Mouth Guard

For females - Chest Guard

Plus towel and water bottle
...most equipment can be purchased from the gym
Learn
The mechanics of boxing as boxing is a science and should always be done in a structured way. SAFETY FIRST.
Learn how to be humble, how to think before you react

Wrapping hands

Stance/Footwork

Defensive Maneuvers

Rhythm / Coordination Punch Combinations.

How to jump rope

How to hit heavy bags

How to hit Focus Mitts

Reaction & counter punching

Self-defense Techniques
Junior Boxing 4pm - 5pm Wednesdays
This class is all about health and motivation while having FUN! . The class is where the seed is sown with regards to 1. Feeling good about your self, 2. Giving your utmost and being the very best you can be 3. Goal setting 4. Working as a team member. The students are taught the basics in boxing and take part in body sparring. This is a 10 week course ( or the equivalent of the corresponding school term). Cost $110 per school term.